Welcome to the Third Goddess Spirit Rising
Conference and Festival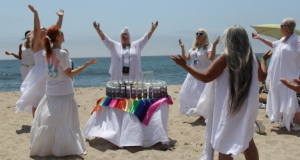 We live at the dawn of the Age of the Goddess: She, the Great Mother Creatrix, Gaia, She Who Provides, is rising again, and people everywhere on the planet are feeling a yearning for a connection to Her.
It is time to start a new calendar when, in reverence, we join our sacred, diverse and holy spirits to honor Her and seek Her wisdom.
As the creators of the Goddess Spirit Rising Conference, we are committed to the ideal of a truly worldwide community, whose guiding principles are the values of the Divine Feminine: Cooperation, nurturing and the protection of Mother Earth – Gaia – and Her people.
Our intention is to pass on a legacy of Goddess Spirituality to the next generation. 
We seek to honor our diversity, the beauty of Her children and our collective contributions to a world built on community, mutuality and reverence for She Who Is All.
We will take the Rainbow Bridge that reaches all around the globe.

Join presenters from all over the world who have committed to sharing their perspectives on a global Goddess community for this magical, heart-opening and transformational celebration in a magical setting by the beach. We have gathered a collection of herstorical figures for a once-in-a-lifetime opportunity for all of us to connect with the Founding Mothers in this century.Together, we will be journeying through ceremony, workshops, dance, music, art, feasting and so much more.
Add your presence, your voice, your dance, your art and your wisdom.
Hutash saw that the island was overcrowded and the people needed more space.

There were no boats so the Mother built a rainbow bridge for them to cross over to the mainland,

and together, man and child, they crossed the bridge… Chumash Legend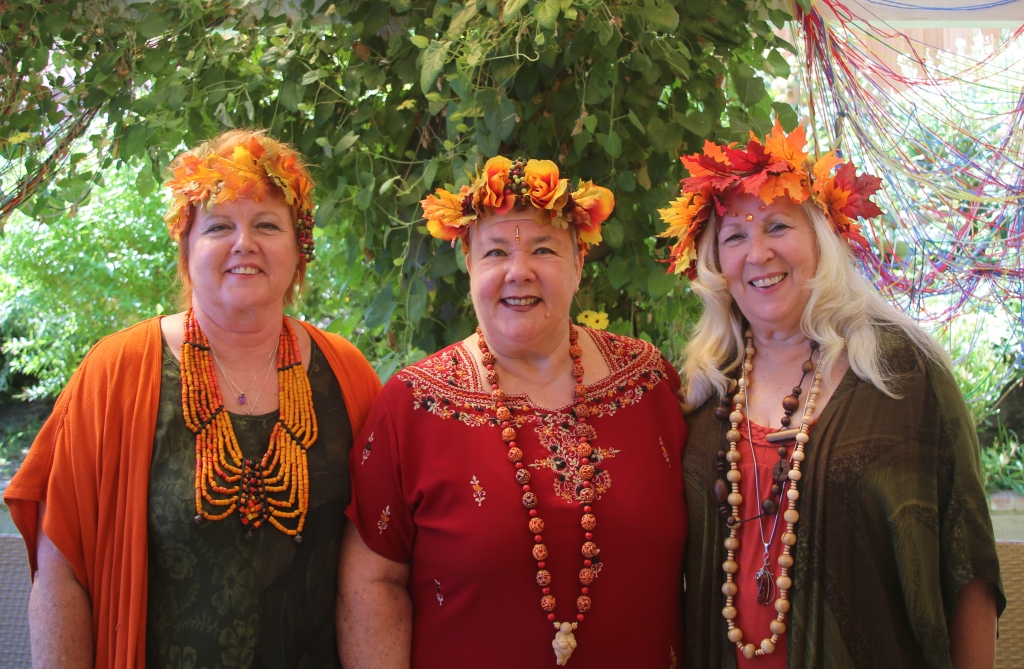 Laura Krajewski  Laura Krajewski (High Priestess Yowyn Ceres Wolfspirit) is a Priestess of The House of the Goddess and Hands of Demeter Grove in Simi Valley. She is a Reiki Master, a spiritual teacher and advisor, and also works as a drug and alcohol counselor, shining a guiding light out of the darkness of addiction. Laura is following her calling as a healer and as a voice of the Goddess. Her spiritual work focuses on creating temple and altar space that reflects the beauty of the Mother and on co-creating and building community with those who seek the Goddess. She is the mother of seven children and the grandmother of six boys, and she lives in Simi Valley, California, with her partner and fellow priestess and their four dogs.
Anique Radiant Heart Anique Radiant Heart is an internationally acclaimed Crone Priestess of the Global Goddess, retired from full time employment as a Senior Marketing Consultant to the NSW State Government of Australia, specializing in Event Management 15 years ago at age 50.  She has since dedicated her life to the Goddess, and has devoted her skills as a conference organizer to bringing together conferences, festivals and sacred spaces for women who love the Goddess and celebrate the feminine divine.  In 2006/2007, she organized two international conferences in Australia dedicated to "Women and Depression", which were a huge success and are still referenced within the women's health network in Australia.  She combines her deep feminism with her Goddess Spirituality in an effort to bring healing and change to a world that has for too long denigrated and hurt women.  These days, she travels the world sharing her love of women, her sacred music and her spiritual teachings. www.goddess.net.au
Delphine DeMore, Ph.D.  Delphine DeMore (High Priestess StarPsyche) is a priestess of The House of the Goddess and Hands of Demeter Grove in Simi Valley. She is also a teacher, a psychologist, a Tarot reader and a Reiki Master. As a psychologist Delphine specializes in helping those who have been wounded to work toward restoring health and balance in their lives. Through her spiritual work Delphine aims to spread the influence of Goddess spirituality in her community and to increase the presence of the spirit of the Goddess in the world. She sees her path as a river composed of many streams that all lead toward making the world a healthier and safer place for all creatures to live, and one that is centered on the principles of the Feminine Divine. Delphine has raised seven children and has six grandsons. She lives in Simi Valley with her partner and fellow priestess and their four dogs.