2013 Presenters
Bilawara is an Elder of the Larrakia Nation of Darwin Northern Territory, Australia. Her name means "Black Cockatoo". As part of a highly respected Aboriginal family, Bilawara is acknowledged and respected as a community communicator, healer and teacher of the ancient wisdoms of Aboriginal spirituality and healing. She is the Australian Aboriginal representative on the International Indigenous Grandmothers Council, whose 13 members are acknowledged and respected as the Wisdom Keepers of the World of Ancient Sacred Knowledge. In 2009 Bilawara was a recipient of a Tribute to Northern Territory Women 2009 Award for her involvement and contribution to the NT community and improving the lives of Territorians. She is an emerging international author and popular teacher and workshop presenter on the ancient traditions of Aboriginal spirituality and healing. She has been made a Faculty Member of the Casa de La Luna Institute in California, USA, and currently works for Flinders University as an advisor to medical personnel regarding traditional approaches to health and healthcare. Bilawara brings messages from the Ancestors to help us on our journey into the new millennium. She has made a commitment to be a Voice for the Star Ancestors and to be a Star Dreamer so when they want to share wisdoms with humanity she writes their words down so they can be shared. Bilawara also writes books that will help others understand cultural protocols for working in Aboriginal Communities. Her book "Healing from the Dilly Bag" is about lessons that Western medicine can learn from traditional healing. Bilawara has a great passion to combat ignorance and racism, and she will take the time and effort to try to change people's attitudes.
Ruth Barrett
Ruth Barrett is an ordained Dianic High Priestess and elder who has taught magical and ritual arts at festivals and conferences across the United States, Canada, and Great Britain since 1980. She is the author of the critically acclaimed Women's Rites, Women's Mysteries: Intuitive Ritual Creation (Llewellyn, 2007), and dedicated to empowering women to meet their needs for life cycle rituals. Her book was the finalist for best Wicca/Pagan book by The Coalition of Visionary Resources. In 1997 she was honored as recipient of the L.A.C.E. award for outstanding contributions in the area of Spirituality from the Gay and Lesbian Center in Los Angeles. Ruth is also an internationally known fretted dulcimer recording artist, singer songwriter, and award winning recording artist of original Goddess songs. Her numerous recordings, beginning in 1980, have been among the pioneering musical works in the Goddess Spirituality Movement. Ruth has performed and taught at numerous festivals nationally including the Michigan Women's Music Festival, Pantheacon, Pagan Spirit Gathering, Rites of Spring, and The Glastonbury Goddess Festival. Ruth has been the director of the Candlelight Concert at the Michigan Womyn's Music Festival every August since 1993. At the 2011 National Women's Music Festival, Ruth was presented with the Jane Schliessman Award for outstanding contributions to women's music from Women in the Arts. In recent years, she has focused on providing rituals for women entering their third destiny as wise women in their elder years. Ruth also co-founded Circle of Aradia in Los Angeles, and Temple of Diana, Inc., a federally recognized Dianic religious organization.
Jennifer Berezan is a unique blend of singer/songwriter, producer, and activist. She is also a teacher at the California Institute of Integral Studies in San Francisco in the department of Philosophy and Religion. Her on-going class (since 1997) is entitled The Healing Ecstasy of Sound and explores music as a spiritual practice from a wide range of cross cultural, traditional and contemporary perspectives.
Jennifer is an acclaimed producer of large-scale multicultural ecstatic musical events. Her groundbreaking work, both as a recording artist and teacher, has established her as a leading voice in the field of music and healing, and her intense and personal approach to music as a transforming experience has brought her strong rapport with audiences from small clubs to large festivals throughout North America and Europe.
Jennifer's lifelong involvement in environmental, women's and other justice movements, as well as her deep interest in Buddhism and earth based spirituality are at the heart of her writing. Her work continues to expand artistic boundaries, blurring the distinctions between musical styles, politics, and spirituality. Over the course of ten albums, including In these Arms, A Song for all Beings, Returning, Praises for the World, End of Desire and her most recent release, Home, amongst others, she has developed and explored recurring themes with a rare wisdom. Learn more about Jennifer at her website at www.edgeofwonder.com
Cristina Biaggi, PhD
"We are entering a period that is receptive to the Goddess in her unique power. Belief in the Goddess brings us back to our roots, when women were equal to men.  I find that people who use goddesses as a metaphor for their own spiritual lives have enormous spiritual power."    Dr. Biaggi is a popular lecturer and the author of: Habitations of the Great Goddess (KIT, Inc. 1994), In the Footsteps of the Goddess (KIT, Inc. 2000) and The Rule of Mars: Readings on the Origins, History and Impact of Patriarchy (KIT, Inc. 2006) as well as countless articles.  To her work as an artist, Dr. Biaggi brings a strong background in the classics, art and art history, archaeology, literature, and languages acquired at Vassar College, Harvard University, the University of Mexico City, The University of Utah, and New York University.  She has taught art history, sculpture, mythology and drawing and is widely renowned for her contribution to the field of Goddess-centered art and prehistory. In addition to her artistic pursuits, Dr. Biaggi is a pilot, a scuba diver, a photographer, a costume and set designer, a mountain climber with Mount Kilimanjaro and Aconcagua (Argentina's "Goddess of the clouds") to her credit, a Fifth Degree Black Belt in the Korean martial arts of Tae Kwan Do, and a first degree Black Sash in Shaolin Kung Fu. In her presentation, Dr. Biaggi will discuss the Goddess in Calabria, the toe of Italy, which she recently visited. Calabria was the ancient Magna Graecia and is blessed with countless Goddess sites dating from Paleolithic, Neolithic and Pre-Roman times.
Zsuzsanna Budapest, D.Min (h.c.)
Dr. Zsuzsanna E. "Z" Budapest founded the Women's Spirituality Movement in the 1970's as a direct result of the influence the first wave feminists had on her. Budapest saw a need to develop a female-centered theology that not only would help women, but answer opponents of the feminist movement who claimed that feminism was 'against God'. Z Budapest is one of the founding mothers of modern women's witchcraft, beginning with the establishment of Susan B. Anthony Coven in Los Angeles in 1971. She catapulted herself into the media spotlight when she was tried as a witch and found guilty in 1975 after being arrested on Venice Beach for reading tarot cards. She fought the charges and after a nine-year battle, won the right for every tarot reader to do so legally. The author of nine books embracing spirituality, including 'The Holy Book of Women's Mysteries', the essential text for pagans, feminists, and women seeking to learn more about the spiritual path as it relates to the feminine and the Goddess aspects of witchcraft and Wicca, as well as the first hands-on book to lead women into their own spiritual and Goddess heritage. Z has led rituals, lectured, taught classes, given workshops, written articles tirelessly, and published in hundreds of women's newspapers across the country. She has powerfully influenced many of the future teachers and writers about the Goddess.
Today Z lives in the San Francisco Bay Area, giving workshops and lectures, but always making time to smell the roses. She is the star of her own cable TV show called 13th Heaven and acts as the director of the Women's Spirituality Forum, a nonprofit organization sponsoring a monthly lecture series in the Bay Area about the Goddess, spirituality retreats, and annual spiral dances on Halloween. Z founded and sponsors the Dianic University Online, a vagina-friendly online school for Dianic Wicca and Goddess studies for women.
http://zbudapest.com/    YouTube     Facebook
Jane Hardwicke Collings 
Jane Hardwicke Collings is a visionary and deeply dedicated to her spiritual community. She is the founder and teacher of the programs of The School of Shamanic Midwifery in Australia and is nationally recognized for her work in this field. Jane, who is a mother and grandmother, has been a homebirth midwife for nearly 30 years. She has written several books and CDs including 'Ten Moons, the Inner Journey of Pregnancy', 'Thirteen Moons, the How to Chart Your Menstrual Cycle Handbook and Journal', 'Spinning Wheels, a Woman's' Ready Reckoner of the Cycles', and 'Becoming a Woman, a Guide for Girls Approaching Menstruation'. She gives workshops on preparation for birth, the spiritual and shamanic dimensions of pregnancy, menstruation and the cycles and shamanic midwifery. "I was initiated into the Women's Mysteries through birth and have been a Priestess of the Goddess every since. Being a mother and a midwife and a 'student of life' has taught me how to 'be with', and the importance of, 'being with' whatever is, in all its dimensions."
Max Dashu

Max Dashu is an independent scholar who uses images to teach women's global history and heritages. Her legendary slideshows bring to light the many women of power who have been hidden from view, from ancient icons to female leaders, culture-makers, rebels, and medicine women.

In 1970 Dashu founded the Suppressed Histories Archives to research women in the global cultural record – not only individual women, but female spheres of power and egalitarian cultures, as well as patriarchy, conquest, racism, and patterns of domination. From her collection of over 20,000 images, Dashu has created hundreds of slideshows, and presented them at universities, women's centers, bookstores, conferences, festivals, libraries, prisons, museums, and schools. She also shares them via webcasts, online courses, and a daily Suppressed Histories blog on Facebook. Dashu has keynoted at numerous conferences, including the Association for Women in Mythology (2009); Women's History conference at California State University at Chico (1998); the New Jersey Coalition for Battered Women (2005), and the Pagan Studies Conference at Pomona College (2008). She has presented at international conferences in Germany (2010), Mexico (2006), Bulgaria (2004), Britain (2007), and the US (2005). Her articles have appeared in Goddesses in World Culture (Praeger, 2010), Feminist Theology and other journals and anthologies. Many more articles and book excerpts are published on the Suppressed Histories Archives website.  
Valerie Eagle Heart is a ceremonial leader, teacher, dancer and artist. Her teachers have come from many and varied paths beginning in 1977, and she incorporates "what has worked" for her in all she shares with The People.
Eagle Heart facilitates a weekly Women's Teaching Lodge Circle, sits the drum with the Rainbow's End Song & Drum Circle and initiated the work of the Grandmothers' Council at Rainbow's End. She also offers various workshops and gatherings; facilitates women's retreats and leads prayer dances at Rainbow's End in the beautiful High Desert near Joshua Tree National Park in Southern California.
Valerie is also one of three women who are in partnership in a very unique and eclectic gift shop in Old Town Yucca Valley where classes, workshops, massage, Reiki and reflexology are offered in addition to "Gifts for All the People to Feed the Mind & Spirit". (Image: Eagle Heart in Ceremony at Sheephole, California)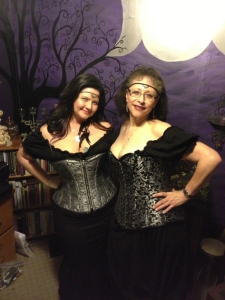 Hecate's Wheel
Hecate's Wheel is Vicki Scotti, & LuAnn Morris indiacialis.com. We are an acoustic folk duo, inspired by the Divine Feminine, and we perform an eclectic variety of cover songs and original music dedicated to the Goddess in all her guises. We have been singing in the Tampa Bay area for many years, and occasionally our melodies are completemented by the interpretive dance of Astarte Moondancer.
What they say about Hecate's Wheel: "Described as 'the ultimate in Girl Power Pagan music', Hecate's Wheel enchants and inspires Witches and Muggles alike! The ladies deliver outstanding vocal harmonies while telling tales of the Goddess, love and life.'
You can find our music, lyrics and tour information at www.HecatesWheel.com. Enjoy the tunes, Peace, Love and Light!
As a priestess of the Great Goddess, Ella expresses her calling as a workshop facilitator, multi-media presenter, and author of three 500-page textbooks on self-healing/shamanic practices with nature. The subject-matter of Ella's work is drawn from her 26 years on the shamanic-goddess path, marked by waves of initiatory experience, tempered by training with indigenous and modern-style shamanic teachers. She also has conventional study that includes several graduate studies. Her textbooks are Healing Through Nature: A Self-Healing Practice and Reference Guide: Volumes I & II, and Initiation: Return to the Forest. Ella is a classically trained modern dancer/ Ritual Dance Artist at festivals; co-creator of photographic gallery collections of the Body in Nature; and owner/ manager of a large Eco-Center in Washington State.
www.HealingThroughNature.org      www.StanwoodHealingArtsEcoCenter.com    Contact: EllaHope777@hotmail.com
Kathy Jones
Kathy Jones is the Founder and Webster of the Annual International Glastonbury Goddess Conference. She is Founder and Creative Director of the Glastonbury Goddess Temple and the Priestess of Avalon training. Jones has an international reputation as an authority on the Goddess and is the author of several ground-breaking books on British Goddesses, Sacred Avalon and healing, including "Priestess of Avalon, Priestess of the Goddess", "The Ancient British Goddess", "In the Nature of Avalon", "Spinning the Wheel of Ana", "Chiron in Labrys", amongst others. She is a ceremonialist, teacher, initiator, healer, writer and sacred dramatist. You can learn more about Kathy's work at www.kathyjones.co.uk, www.goddesstemple.co.uk, and www.goddessconference.com
Mike Jones
Mike Jones has been walking the Goddess path for over 30 years and has responded to the call of different Goddesses as they make themselves manifest in their ways of beauty and wonder. He is a founder member of the Glastonbury Goddess Temple . He practiced and taught Aikido for 16 years and is currently training as a teacher of Nei Gong.
Letecia Layson is a Filipina, feminist, futurist, Priestess of Morphogenesis (Form Coming Into Being), High Priestess of Diana; Priestess of Isis, Priestess Hierophant in FOI/TOI-LA. Letecia is one of the Founding Mothers of the Center for Babaylan Studies; a member of International Feminists for a Gift Economy,  and the Modern Matriarchal Studies Network.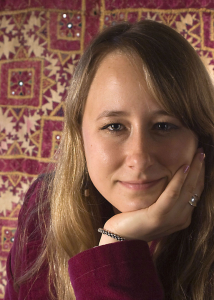 Isadora Gabrielle Leidenfrost, PhD
Dr. Isadora Gabrielle Leidenfrost is trained as both a filmmaker, a textile historian, and a feminist folklorist. She holds a BFA from the Rhode Island School of Design and a Masters and a PhD from the University of Wisconsin-Madison. In addition to her educational experiences, Dr. Isadora has owned and operated Soulful Media, her film production company since 2004 and has produced 13 films since she began. Dr. Isadora continues to be inspired by international travel and many of her films have led her to live in and travel in more than 18 countries. Inspired by multicultural textiles, Dr. Isadora's films create a dialog between spiritual and religious textiles and embedded culture. She creates documentary films to inspire people and to show them about rare, under studied, and exquisite of textile traditions from around the world. 

Joan Marler
Joan Marler worked closely with Marija Gimbutas as her personal editor (1987-1994) and authorized biographer, and lectures internationally on Marija's life and work. She is a Consulting Editor (a former Executive Editor) of "ReVision Journal", Washington, D.C., and is the editor of The Civilization of the Goddess (1991) by Marija Gimbutas, and From the Realm of the Ancestors: An Anthology in Honor of Marija Gimbutas (1997). Her long-term work is to complete Marija's biography. In 1969, Joan earned a BA in dance and the liberal arts from Mills College in Oakland, CA, and an MA in Archaeomythology from Sonoma State University in 1997. She has taught courses in Archaeomythology at Sonoma State University, New College of California, and the California Institute of Integral Studies in San Francisco where she has been an adjunct faculty member since 1996. She also taught modern, folk and ethnic dance for 26 years through Santa Rosa Junior College in northern California. From 1982-1996 Joan worked as an independent producer and radio journalist for KPFA FM, Berkeley, California producing programs on the humanities. Joan is the founder and executive director of the Institute of Archaeomythology, an international, interdisciplinary organization of scholars dedicated to fostering an archaeomythological approach to cultural research with particular emphasis on the beliefs, rituals, social structure and symbolism of past and present societies. Please see www.archaeomythology.org for a complete description of activities.
Joanna "Silverwitch" Medina is a High Priestees, thealogian, author, grandmother, musician, poet, teacher and earth-keeper with over 50 years in the mystical arts, divination and tarot. She founded The Sacred Circle of Maiden, Mothers and Crones in 1987 and continues sharing her experience, strength and hope with recovering women who are reclaiming the ancient ways of the Goddess and women's mystery traditions to heal from the soul fragmentation, internalized oppression, co-dependency and various addictions resulting from the insidious ways of patriarchy. Joanna resides in the High Sierras near Lake Tahoe and spends her time teaching, writing, speaking and holding women's circles and retreats in Northern California and Nevada. She has been recovering and reclaiming for over thirty years.
Vicki Noble
Vicki Noble is an artist, a healer, an independent research scholar and a foremother of the Goddess movement in the U.S. In 1981 she co-created the beloved and bestselling round Motherpeace tarot cards with Karen Vogle, and she is the author of eight books, including Shakti Woman: Feeling Our Fire, Healing Our World (1991) and The Double Goddess: Women Sharing Power (2003). She founded and directed a school for women healers in Oakland (1987-1991), has led groups of women on pilgrimage to sacred Goddess sites around the world, and travels and teaches internationally; her books are published in Spanish, Italian, Portuguese, German, and French. She is a professional astrologer and teaches private tutorials at her home in Santa Cruz, California, adapting Tibetan Buddhist Dakini practices for her mostly non-Buddhist students. For the last seven years, she has spent part of each year transmitting these teachings to groups of women all over Italy.
Vicki is part of the Women's Spirituality Master's program at Sofia University (formerly ITP) in Palo Alto serving as associate core faculty, specializing in Archaeomythology, Matriarchal Studies, and Female Shamanism, as well as guiding graduate students in thesis exploration and development. Her Master's thesis was on women's sacred textile traditions around the world and the intensive rituals involved in production, as well as the encoded symbols, scripts, and calendars woven and embroidered into the fabrics. She is currently at work on two books, editing an anthology of Woman Shamans, and collaborating on a work on Goddess (pre-Durga) motifs found in the ancient Indus-Sarasvati Valley culture of Pakistan and India.
Dermot O'Hara
Dermot O'Hara is a natural born empathic intuitive, Shaman Healer, Seer and Spiritual Medium.  Dermot's ancestry traces back through 14 generations (over 1000 years)of his O'Hara clan lineage, to a blacksmiths forge in Country Cork, Ireland.  This lineage carries the alchemy of Celtic Goddess Brigit's flame of illumination.  Today, Dermot embraces the elements of Brigit carried through the generations of his family to the craft he practices as a truly unique healer, The Celtic Shaman.  Dermot presents this powerful alchemical process of transmutation in his Brigit's Flame of Illumination® workshop and his private Soul Illumination Integration® sessions. The Celtic Healing flame of Ireland's ancient Goddess Brigit has burned brightly through the ages awaiting this time of illumination and awakening.
 Dermot is the founder and Spiritual Director of Brigit's Celtic Grove of Illumination and the Celtic Rainbow School of Shamanism in Ireland.  He has dedicated his life to working full time in his role as healer, teacher and shaman to his people for twenty eight years.  Dermot works from his nationwide clinics with a practice that covers the whole of Ireland.  In his clinics, he provides private sessions of a multi-dimensional nature.  Dermot uses many modalities as part of his craft including Creative Soul Life Coaching®, Dream Interpretation, Past-life Regression, Shamanic Journeying, Vocal work, Mediumship, Prima Yoga® and his acute empathic skills to bring about a satisfactory outcome for his clients.
Over the past 28 years, Dermot has worked with many Indigenous healers from around the world contributing to developing his skills.  He is recognized for his work in Ireland by the Indigenous Education Institute in the US.  Dermot is also one of their registered International Advisors.
Dermot Founded the Celtic Rainbow School of Shamanism in 2001.  Through the school, Dermot introduces his students to a place of balance and harmony within themselves.  This balance is promoted by teaching his students how to maintain a grounded balanced integrated connection with the duality of our God/Goddess awareness.  Dermot teaches his students how to become the eye of the storm amid all the chaos.  This is the path of true lasting peace and spiritual power for us and all our relations on Mother Earth.  To support this reality, Dermot fully embraces the essence of the Goddess as a vital ingredient to his Soul Illumination and Integration process.  Brigit's Celtic Temple of illumination was established by Dermot in response to the great demand there is now growing for our Global Goddess Awakening.
Amalya (Amy Peck, M.A.)
Amalya is a professional artist and photographer, a writer, belly dancer, teacher and ceremonialist, as well as a Priestess of the Goddess and workshop presenter. She is also the founder/creatrix of the Goddess Studio in Escondido, California, a private dance and temple space dedicated to the Divine Feminine, as well as a sacred setting for events, ceremonies and classes. Amalya is passionate about empowering women and mainstreaming the paradigm of the Sacred Feminine.
Learn more about Amalya's work and art at www.Goddess-Studio.com, contact her via Email: AmalyaGoddess@aol.com, and connect with her on Facebook at https://www.facebook.com/GoddessStudio
Judy Piazza
Judy is nationally and internationally known for her extraordinary talents, exceptional skill, and generous, joyful spirit as performer, educator, music therapist, and workshop presenter. After thirty five years of exploring music as an expressive art and therapeutic healing tool, she continues to study and be inspired by sound traditions from various world cultures. Judy has been featured at Drums of Illumination Frame Drum Festival, The Kennedy Center Arabesque Fest (with Elmaz Abinader), at the Bali Spirit Festival (with Tony Khalife) and Bali Tribal Music Tours Retreat, at Sacred Maya Journey to the Yucatan, at Studio Maui, The Om Ball and Chants 4Change as part of the 2009 inauguration events (with Saul David Raye), at the National Women's Music Festival (WI), at The Women's World Drum & Percussion Happen'n (NY), in Japan Music Therapy circles and events, Bioneers Conferences, and Music Educator and Therapy Conferences. Judi has recently completed a multi-year intensive Yogic Mystery School with Russill Paul after 15 years of exploring mantra and sound from the Indian perspective. Find out more at www.resonanceandrhythms.com /www.myspace.com/judypiazza.  Dulsitar Link: http://www.youtube.com/watch?v=x_NbGWhe-rQ
Anique Radiant Heart
At age 65, for 35years, Anique Radiant Heart has dedicated her life and her talents to assisting women and girls to awaken the great Feminine Divine within them. Gifted with a miraculous voice and the ability to open people's hearts with her singing and teaching, she has facilitated Goddess mystery workshops and events, celebrating the Goddess through ritual and song in the United States, Canada, England, Ireland, France, Italy, Greece, Singapore, Hungary, Holland, Spain, Crete, Italy, Taiwan, Bangkok, Australia and New Zealand. This year she is adding Germany to this extensive list.
A keen scholar, author, singer/songwriter, artist and political activist, Anique's love for the Earth, women and the Feminine Divine, which she lovingly calls the Goddess, has been the motivating force behind her extraordinary music and the work she does in the world.
In 1989, Anique founded "Invoking the Goddess" and created the first website in Australia solely celebrating the Goddess and the ancient religion of the Goddess. From1996 till 2002, she organised an annual Goddess festival of the same name in the outskirts of Sydney and published a newsletter which was mailed out free of charge to over 500 subscribers. In 2005, with the help of donations from Goddess worshippers all over the world, Anique founded the Australian Goddess Temple on her land. At the 2007 Australian Goddess Conference, Anique was honoured as Foremother and Elder of the Goddess Community in Australia. Her work as a spiritual teacher, ceremonialist and sacred singer has grounded many in the love and reverence of the Goddess.
For the last 15 years, Anique has toured the world sharing her CD 's "Living the Goddess", "Invoking" and "Embracing the Goddess". She is now working on a seven year project which will result in 7 CDs to work with the 7 major chakras. The first of these, "Kuan Yin Light of Compassion" was birthed in 2011. Last year she launched her new CD "Priestess" at the Glastonbury Goddess Conference. Anique is a popular and beloved presenter and brings with her a unique style of teaching and sacred singing. She lives in the country in Australia with her life partner and three feline familiars and one canine. Her art and her garden complement her music and teaching and provide the serenity of a balanced and grounded heart.
Contact : Anique@herwill.net   http://www.invokingthegoddess.net
Sandra Román
Sandra Roman is a writer, teacher, sacred singer and Tarot reader. Sandra was born in Santa Fe, Argentina, on January 27th. 1964. She worked as a journalist during 13 years until the Call of the Goddess brought her to Avalon, where she was trained as a Priestess of Avalon by Kathy Jones. She was initiated at Chalice Well in Glastonbury, England, on 2000 Autumn Equinox. Sandra offers two Priestess trainings in South America and Spain, following the Sacred Wheels of both places of her living and the land of her ancestors. She does exhaustive research work about the ancient Goddesses worshiped in both Spain and South America. She also offers Goddess online courses for Spanish an English speakers living all over the world. She lives in Argentina, South America, where she is creating a new Goddess Temple at Rosario, a beautiful city by the coasts of Paraná River. Her books Diosas & Chamanas; Los Rostros de la Diosa; Los Rituales de la Diosa and Diosas & Chamanas de la Cruz del Sur  were published by Editorial Kier, well known as editors specialized in Esoteric's and Spirituality in Spanish language. Recently, she published Diosas de Sangre y de Sol together with Mandala Ediciones. Inspired by her service as a "Melissa" at the Glastonbury Goddess Temple, she founded the first Goddess Temple in Capilla del Monte, a powerful sacred place in Argentina. In 2009, Sandra organized the first Argentinean Goddess Conference in 2009, gathering Goddess people from all over the world to honor the Divine Feminine.
Lydia Ruyle
Lydia Ruyle is an Artist Scholar Emeritus of the Visual Arts faculty, University of Northern Colorado in Greeley, Colorado, where the Lydia Ruyle Room of Women's Art was dedicated in 2010. Her research into sacred images of women has taken her around the globe. Ruyle creates and exhibits her art, does workshops and leads women's journeys throughout the U.S. and internationally. Since 1995, her Goddess Icon Spirit Banners, which made their debut at Ephesus, Turkey, have flown all over the world spreading their sacred feminine energies. Her book 'Goddess Icons: Spirit Banners of the Divine Feminine' was published in 2002.
Karen Tate, D.Min (h.c.)
Dr. Rev. Karen Tate is a twice published author, workshop presenter, teacher, speaker, radio show host and sacred tour leader. Her first book, Sacred Places of Goddess: 108 Destinations has garnered prestigious endorsements, while her second book 'Walking an Ancient Path: Rebirthing Goddess on Planet Earth' was a finalist in the National Best Books of 2008 Awards. Tate's work has been highlighted in the Los Angeles Times, Seattle Times and other major newspapers. She is interviewed regularly in print, on television and on national public radio and hosts her own radio show, Voices of the Sacred Feminine, considered a treasure trove of insight and wisdom for our time. Her work has segued into writing, producing and consulting on projects which can bring the ideals and awareness of the Sacred Feminine into the mainstream world through television and film. Karen spends much of her time giving interviews, teaching, and lecturing at private and public educational and spiritual institutions, temples and churches such as Joseph Campbell Roundtables, The Gaia Festival, Loyola Marymount College and the American Academy of Religion/WESCOR. A prolific writer, Karen has contributed to numerous domestic and international anthologies, columns, journals, and magazines, and she still finds time to lead sacred tours that circle the globe. She is an ordained minister, independent scholar of the Sacred Feminine, and graduate of The Women's Theological Institute, specializing in Goddess and Women's Spirituality. Karen and her husband of 27 years, Roy, are the caretakers of the Isis Temple of Thanksgiving and Sekhmet's Mountain Sanctuary.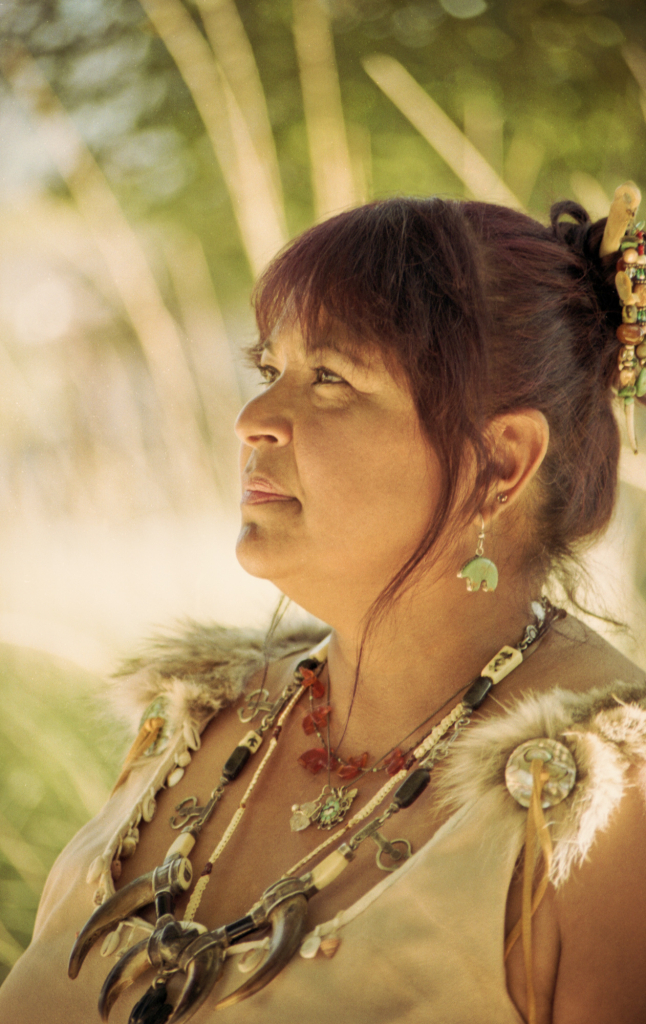 Julie Tumamait-Stenslie
Julie Tumamait-Stenslie traces her Chumash ancestry through her father, Vincent Tumamait, a leader or paha among the Chumash. Julie's family Chumash descendancy extends throughout Chumash historical homelands, from the villages of Hichimin, Lu'upsh and Swaxil on Santa Rosa and Santa Cruz Islands, to as far north as San Luis Obispo County, and as far south as Humaliwo (Malibu), and throughout Santa Barbara and Ventura Counties (including Mishopshno, or Carpinteria, and Matilija, here in the Ojai Valley). Julie's kinship is traced to at least 11 known Chumash villages, and as far back historically as the mid-18th Century, prior even to the Portolá Expedition of 1769 into Alta California.
Julie was trained by her father, Vincent Tumamait, and later assisted him in his cultural presentations until his death in 1992. She carries on the traditions of her family through programs and presentations of Chumash culture, history and song, within the tradition of Chumash storytelling and her personal family's native roots and experience in the Ojai Valley.
Julie is on the California Indian Advisory Committee for the Santa Barbara Museum of Natural History, and C.A.U.S.E. (CENTRAL COAST ALLIANCE FOR A SUSTANIABLE ECOMONY) , a non-profit agency . She is a former member of the University of California at Santa Barbara's Committee on the "Repatriation" of Native American ceremonial artifacts. Julie also served on the board at the Oakbrook Park Chumash Interpretive center in Thousand Oaks .Ca. In 1995 Julie was named Community Services Volunteer by the Ventura County Commission for Women and an Ojai Living Treasure in 1997. Julie is a commissioner of the Native American Heritage Commission, appointed by Governor Schwarzenegger. The mission of this agency is to protect Native American sacred sites and cemeteries. As Tribal Chair of the Chumash Barbareno/Ventureno Band of Mission Indians, Julie is leading her band in their effort to federal recognition and full Tribal status .
Susun Weed
Susun S. Weed is a High Priestess of Dianic Wicca, a member of the Sisterhood of the Shields, and a Peace Elder. She is also one of America's best-known authorities on herbal medicine and natural approaches to women's health. Her five best-selling books are recommended by expert herbalists and well-known physicians such as Susun Love, MD, Christiane Northrup, MD, and Rosemary Gladstar. Vibrant, passionate, and involved, Ms Weed has garnered an international reputation for her groundbreaking lectures, teachings, and writings on health and nutrition. She challenges conventional medical approaches with humor, insight, and her vast encyclopedic knowledge of herbal medicine. Unabashedly pro-woman, her animated and enthusiastic lectures are engaging and often profoundly provocative. While pursuing an active international lecture schedule, Ms. Weed has found time to oversee the Wise Woman Center in Woodstock, N.Y., and Ash Tree Publishing. Susun has personally trained more than 250 apprentices, 600 green witches and 350 correspondence course students. Susun Weed's television and radio show guest appearances include: National Public Radio, NBC News, CNN, and ABCNews.com. She has been quoted and interviewed in many major magazines, including Natural Health, Woman's Day, First for Women, and Herbs for Health. She is also a contributor to the Routledge International Encyclopedia of Women's Studies.